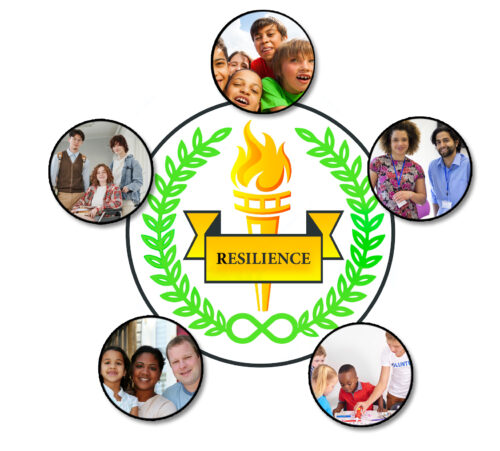 Teaching Life Skills & Resilience through SEL for ALL Ages
Resilience, Inc. provides Social Emotional Learning curriculum, games, apps and tools for schools, parents, and community groups. We are developing the SELENA program with over 30 topics available in six content styles for each grade within K-12. Our goal is to provide tools for individuals to learn life skills that develop mental and emotional strength and resilience.


Social Emotional Learning
SEL is the process through which all people learn to manage emotions, achieve goals, maintain supportive relationships, and make compassionate decisions.
Call to Action!
At Resilience, we believe in being part of the solution.
Please donate today and help give kids the skills they need to be resilient toward their future.
"The SELENA program helps to provide strength training for mental and emotional resilience."
MENTAL STRENGTH
Just like physical strength, mental strength needs to be practiced and built with the guidance of others.
EMOTIONAL INTELLIGENCE
Emotional intelligence, often referred to as EQ, provides the ability to acknowledge one's emotions while empathizing with others.
EDUCATION
Mental and emotional resilience is now recognized as a skill that can be taught academically and developed throughtout a lifetime.
TRAINING
The exercise of applying emotional intelligence knowledge through training is necessary to developing mental resilience.
In order to help students cultivate these skills, we've developed SELENA, or Social Emotion Learning Enhancement Application, that teaches the five core ideas of SEL: Self-Awareness, Self-Management, Social Awareness, Relationship Skills, and Decision-Making.
These five ideas are broken into 50 topics that can be taught in any classroom.
SELENA is incredibly robust, with content for every grade from K-12, and translations in Spanish, Mandarin, and more. Each topic houses a lesson plan, video lesson, audio exercise, and One-to-One for every level. We also provide this program to parents, counselors, athletes, and anyone who has an interest in improving social-emotional skills.
Learn about the five central components of SEL and why they are important for students to learn.
Visit the Curriculum Outline to learn more about the topics and content styles within the program.
Learn about the problems facing schools and how comprehensive SEL education is the solution.
Not convinced? Look at our growing evidence for why SEL is a necessity for students in schools.
Whether you're interested in joining us, or you're a student, parent, or faculty, please reach out.